We offer a wide variety of choices to fit your hair care wants and needs.
Our team is devoted to monthly ongoing education in a very progressive industry so we are able to provide the ideal experience and results. Our location is designed to make your experience enjoyable and leave you feeling inspired! Check out our complete service menu below to get a feel for what we do.
Please note: Service prices and availability are subject to change without notice.
Precision Haircuts & Styling
All haircuts include a relaxing shampoo, scalp massage and blow dry. 
A blow dry is included with all color services. Please keep in mind that many of the latest coloring techniques require more time than traditional color application methods. We strongly encourage a complimentary consultation prior to booking the service in order for the artist to ensure it is a realistic and affordable goal and to provide our best possible guest experience.
---
---
Semi-Permanent Color w/ Haircut
---
---
Treatments & Smoothing Services
Provides solutions to a variety of needs resulting in a healthier scalp and promoting manageability.
Keratin Complex Smoothing Treatment
A smoothing treatment designed to eliminate frizz, add shine, repair damage and decrease blow dry and styling time. Lasts for up to 5 months.
---
Keratin Complex Blow Out Express Treatment
This is an abbreviated version of the Smoothing Treatment with results lasting up to 6 weeks.
$90
& up

$75
& up
w/ service
---
Chi Straightening Services
This is a permanent straightening system that utilizes a combination of ceramic heat, negative ions and natural silk to eliminate texture and curl while maintaining hair integrity.
**Consultation required before booking. 
$330
/ first 2 hrs

$75
/ add'l. hr.
---
Service for adding body and texture to hair that needs a little more lift, wave or curl
---
From wavy to super curly, the beauty of this service is the customized design for every client. The luxurious session begins with a healthy botanical cleanse and conditioning followed by a styling and coaching session. 
---
Our experienced certified artist will assess your hair to determine the best color, lengths and products needed to achieve your desired look. Daily haircare and maintenance will be explained to maximize your hair extension experience!
Application and Extension
---
---
At the time of the initial consultation, the artist will be able to make the best determination on the pricing once the length, color and number of extensions needed are determined. The extensions will be ordered following the consultation. The cost of the extensions is collected prior to ordering.
Professional waxing services are a great way to remove unwanted hair growth on any part of your body. Waxing services will leave your skin smooth and supple for weeks or longer, and the hair will generally grow back lighter and softer than if you were to shave. Our team will provide safe, professional results in a private setting. Hair should be at least 1/4″ long prior to visit.
Exceptional services to invigorate and restore the health and beauty of your nails.
Relax and enjoy a refreshing manicure service to give your fingernails a professional, clean and tidy look. The basic manicure service includes a  relaxing massage of your hands and lower arm, trimming and shaping your nails and application of a top-quality professional nail lacquer or polish in your choice of rich colors and glazes.
---
Our more luxurious "spa" manicure service is an hour of pampering that includes cleansing with citrus soak, cuticle care and moisture pack with cuticle remover, AHA cuticle eraser, and Solar Oil, exfoliation and Exfoliating Crystals and Crystal Activator, massage with finishing lotion, and meticulous nail care consisting of shamping, buffing and polishing.
---
Pedicure services are designed to rejuvenate and beautify your feet. The basic pedicure includes soaking, polish removal, cuticle work, cut, file, buff, light massage and polish application.
---
Alternatively, pamper yourself with a spa pedicure which includes a sea rock soak, AHA scrub, sea serum, sea salt glow, marine masque, heal therapy, meticulous nail care, and a relaxing massage.
Please note French-style pedicures are an additional $10
---
A polish applied to your natural nail that is cured with a UV light. Like a gel, it will add strength and durability that reduces chipping. 
---
Nail polish service includes the removal of your old color and application of a new professional quality polish from our collection of color choices.
---
---
Experience our professional facial products and services.  Enjoy a spa facial and experience the luxurious feeling a treatment can provide. Our Esthetician will apply your choice of facial products to exfoliate and cleanse your pores, balancing your skin´s natural oil content and leaving you feeling refreshed and invigorated.
---
B. Kamins Customized Facial
---
B. Kamins Beyond Botox Facial
---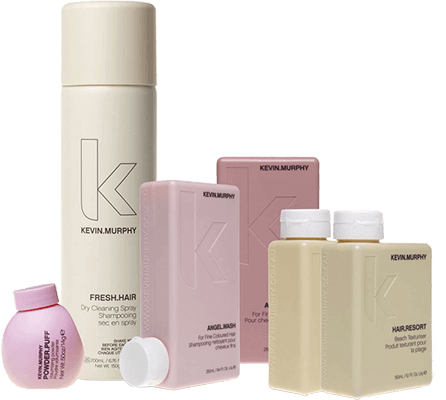 The best quality personal care products are carried at professional salons like ours. Don't be fooled by imitations and imposters, these products cannot be purchased in stores. Experience the difference by using what we use here in the salon everyday. We can recommend just the right product to meet your needs.
If you'd like to make an appointment, please click the button below or give us a call.
We would love to hear from you! Our team is ready to answer any questions you may have.